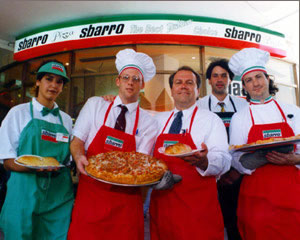 Welcome! Since 1977, Sbarro has been giving individuals the chance at owning and running their own thriving businesses. The Sbarro franchise family includes many people of various backgrounds and parts of the world, all joined by a common thread: to determine their own future.
When you purchase a Sbarro franchise, you become part of a global network of professionals. Throughout the entire franchising process, Sbarro provides in-depth guidance and support in your areas of operation. From food training to site design to marketing, Sbarro is there to assist you. Because of this support and brand flexibility, many entrepreneurs are able to open Sbarro restaurants in non-traditional locations that other investors may not consider. It is now operating and franchising nearly 1,000 restaurants in the United States and abroad, and has expansion opportunities all over the globe.
Let this site guide you through the simple process of buying a Sbarro franchise-just follow the tabs to learn more. You will find the information you need to make an informed decision about your franchise opportunity.