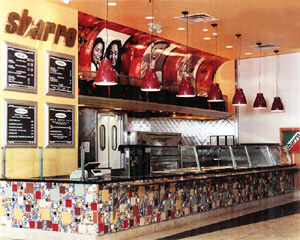 The Sbarro vision of success is one that is shared throughout our national network of franchisees and family. We invite you to share this vision, and achieve your own personal goals with all of the rewards that go along with a Sbarro franchise.
The Sbarro Concept was born in Italy and raised in the United States. Here's where we are today:
After 47 years, we are still a family owned and operated business, with a personal passion for success.
Nearly 1,000 locations in both traditional and non-traditional venues worldwide.
Plans for expansion all over the U.S.
Rated the Number One Quick Service Restaurant in the Italian segment by Entrepreneur magazine for four consecutive years (2000, 2001, 2002 and 2003).
The Sbarro brand concept is based on Old World Italian food. What makes it so successful?
Time honored recipes — Mama Sbarro's original recipes continue to inform our kitchens.
The freshest ingredients — Sbarro sets and meets high standards for the freshest locally grown and imported ingredients.
Consistency — Sbarro franchises are always authentic and value oriented.
Buying power — Our size enables us to purchase the best ingredients, and help keep your inventory costs low.
How does Sbarro support its franchisees?
Business and restaurant training — Your first stop on the road to becoming a franchisee is an intensive, focused training course.
Design assistance — our experienced team will help to make your site attractive and maximize space.
Franchise Management — an experienced franchise manager is available to you to guide you through the process of opening your own Sbarro, from the store's inception through the successful day-to-day operations.
An established regional network of suppliers, located in all four corners of the globe.
What makes Sbarro a unique value in franchising?
Affordable investment — Sbarro works hard to make sure that owning your own franchise is an attainable goal.
Brand flexibility — Sbarro can be found in airports, universities, travel plazas, train stations, hospitals, and many other high profile locations.
Demand — Italian food is the number one meal preference for consumers worldwide.